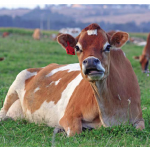 Issue Date:
June 26, 2013
By Ching Lee
The minimum milk price paid to California dairy farmers will go up starting next month, but the adjustments amount to just a fraction of what producers had requested and half of the last price increase the California Department of Food and Agriculture granted earlier this year.
In a hearing decision announced last week, the department ordered the temporary price increase—which applies to all five classes of milk and takes effect starting in July until the end of the year—despite a recommendation from CDFA's own hearing panel to not raise prices at all.
The changes come as a result of a hearing held in May and will raise producers' monthly pool prices for the next six months by about 12.5 cents per hundredweight, according to CDFA. Specifically, the department will increase Class 1 milk prices by 3 cents per cwt.; Class 2 and 3 by 5 cents per cwt.; and Class 4a and 4b by 15 cents per cwt.
The current increases are half the level of what the department previously adopted after a hearing last December. That hearing resulted in a raise to producers' monthly pool price by about 25 cents per cwt. for four months—from February through the end of May.
In a letter to dairy stakeholders, CDFA Secretary Karen Ross said she has ordered the temporary price relief for milk producers even though their "testimony on the hearing record failed to provide economic data to justify the industry's positions." But she said current market conditions, specifically "the uncertainty of the 2013 corn crop and questions about the stability of the market recovery," warrant a temporary adjustment to minimum milk prices.
Producer groups expressed disappointment in the latest decision. They had asked CDFA to raise the Class 4b price—which cheese manufacturers pay for milk—by about $1.20 per cwt., an adjustment that would have resulted in an increase of about 50 cents to producers' basic pool price.
Processors supported a six-month extension of the same temporary price increases the department had set back in February, which would have increased producers' pool price by about 25 cents per cwt.
"This is the first time in recent memory that CDFA has adopted a producer price increase that is less than the amount that large private processors considered fair," said Lynne McBride, executive director of Turlock-based California Dairy Campaign. "The decision by the secretary makes it clear that our state system is failing dairy producers."
The proposal that producers presented during the hearing mirrors a milk pricing formula they have introduced through Assembly Bill 31, which would establish a formula for dry whey that brings California prices closer in line with what's paid to dairy farmers in surrounding states under the federal milk marketing order.
Dairy farmers have long held that there has been a disparity between the whey value in the state's Class 4b price and the federal order's whey value. They decided to sponsor AB 31—which would direct CDFA to set a value for dry whey in the 4b price no less than 8 percent of the whey value used in the federal order—after repeated attempts to address the issue through hearings with CDFA, said Michael Marsh, CEO of Western United Dairymen.
Marsh said dairy organizations are "going to keep pushing the California Legislature" to see if it will provide relief beyond that announced by CDFA.
AB 31 is now held in the Assembly Appropriations Committee as a two-year bill, after the Assembly Agriculture Committee in May decided it was not yet ready to make the sweeping changes in the bill but wanted to keep AB 31 alive. Instead, committee leaders asked CDFA to hold a hearing to consider the need for additional price relief.
But in the end, CDFA's hearing panel determined that milk prices have improved enough this year to push producer margins positive again, even with feed costs continuing at historic high levels, and that the state's milk supply appears to be balanced in relation to demand.
Without concrete data, the panel said, there is concern that a temporary price increase would disrupt "the normal marketing conditions of the state's milk supplies or finished dairy products."
Rachel Kaldor, executive director of Dairy Institute of California, which represents processors, said the group's hearing testimony reflected the findings of the hearing panel—that there were no economic factors to justify a continuation of a milk price increase. But given that several legislators had asked for the CDFA hearing—saying that the Legislature is not the place to impose one side's milk pricing preference—and given that they had also asked producers and processors to work toward short- and long-term solutions, "we requested that the secretary's decision be modest and of short duration," Kaldor said.
The hearing panel did not address a key concern for dairy farmers—that the state's dry whey value continues to lag behind what's in the federal order.
"That's unfortunate, because it was an opportunity to bring some clarity to very muddy waters," Marsh said.
Rob Vandenheuvel, general manager of Milk Producers Council, said even though the law requires CDFA to consider the relationship between the state's minimum milk prices and the prices paid for comparable milk around the country, the department did not mention the issue in its hearing panel report.
"We obviously think the staff at CDFA made a gross error in their analysis by ignoring this critical piece," he said.
In her stakeholder letter, Ross continued to stand by the California Dairy Future Task Force that she formed last year as the best venue to work on a long-term overhaul of the state's milk pricing system, even as she acknowledged other ongoing efforts—through legislation and, potentially, the federal milk marketing order—that are attempting to achieve the same goal.
Meanwhile, three dairy cooperatives—California Dairies Inc., Dairy Farmers of America and Land O'Lakes—said they are moving ahead with drafting regulatory language to initiate the process of replacing California's current milk marketing order with a federal order. The cooperatives said they decided to pursue the change after reviewing findings from a study they had commissioned last year that suggests "a properly written federal milk marketing order" could potentially result in higher farm gate prices and benefit California dairy farmers.
In addition to drafting the language, the process for implementing this change requires a petition to the U.S. Department of Agriculture, a public hearing and approval by two-thirds of the state's dairy farmers.
(Ching Lee is an assistant editor of Ag Alert. She may be contacted at clee@cfbf.com.)
 California Farm Bureau Federation